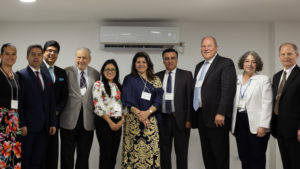 The International Center for Law and Religion Studies participated June 26-28, 2019, in the meetings of the 49th General Assembly of the Organization of American States (OAS), held this year in Medellin, 
Colombia
. Professor Gary Doxey, accompanied by the center's senior fellows, Denise and Neil Lindberg, attended on behalf of the Center. They were joined by several others, including long-time partners of the center from the Latin American Consortium for Religious Liberty, Norberto Padilla and Sergio Gonzalez.
On June 25, just prior to the meetings, the center and the consortium co-sponsored a side event, a dinner and panel discussing "Human Dignity, the Foundation of Human Rights." Doxey and Padilla spoke about the Punta del Este Declaration on Human Dignity for Everyone Everywhere before an audience of 54 invited guests representing human rights civil society organizations gathered for the OAS General Assembly. The Declaration has been a project of the center for the past two years, and the dinner/panel discussion was the occasion to unveil and distribute a beautiful new brochure in Spanish about the declaration and the central value of human dignity for religious freedom and other human rights. The Spanish-language declaration and brochure were enthusiastically received.
Also speaking at the event were Lorena Rios, director of religious affairs for the Republic of 
Colombia
; and Karen Rodas, director of communications for the Church of Jesus Christ of Latter-day Saints in Central America. Guillermo Estrugo, Karen's counterpart for the South America Northwest Area, was master of ceremonies and moderated the panel. Many in attendance expressed their enthusiasm and desire to talk more about reinvigorating respect for human dignity in human rights discourse. Human dignity was the foundational value on which human rights were founded after World War II, but understanding and discussion of this value has faded to minimal levels in the present day. The special emphasis of the evening included reference to human dignity as a means of balancing and harmonizing apparently conflicting rights claims in the context of disputes involving religious freedom.