Orrin G. & Elaine Hansen Hatch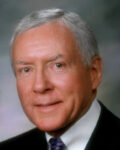 Senator Orrin G. Hatch was a politician, attorney, and composer who served as a United States Senator from Utah for 42 years (1977-2019). He was the longest-serving Republican U.S. Senator in history and the longest serving U.S. Senator from Utah in history. Senator Hatch chaired the Senate Committee on Health, Education, Labor, and Pensions from 1981 to 1987. He also served as chair of the Senate Judiciary Committee and the Senate Finance Committee. On January 3, 2015, after the 114th United States Congress was sworn in, Senator Hatch became President pro tempore of the Senate. He retired in January 2019. Senator Hatch received his bachelor's degree from BYU, and his JD from the University of Pittsburgh Law School. He practiced law from 1969 until he was elected to the U.S. Senate in 1977. Senator Hatch was born in Homestead Park, Allegheny County, Pennsylvania. He passed away April 23, 2022 at age 88 in Salt Lake City.
Senator Hatch needed no introduction to the staff and supporters of the International Center for Law and Religion Studies, but this excerpt from an article by A. Scott Anderson, published in the December 27, 2018 Deseret News, gives a glimpse into the heart of a man driven "to succeed in sports, music, politics and everything he tried." … Clearly, the most important relationship in Orrin's life is with his wife, Elaine — the love of his life, his anchor, his biggest influence and supporter, his pillar of stability amid the stress and trauma of a very public life. Orrin was a Brigham Young University student when he met, wooed and married Elaine Hansen. His remarkable civic achievements are only topped by his proudest accomplishment of all — the success of his family. Married for 60 [64 at the time of his death] years, Orrin and Elaine were the parents of six children, grandparents of 23, and great-grandparents of 26. Orrin has said, no doubt accurately, that Elaine deserves as much credit for his career and accomplishments as he does.